Being "eco" is a part of the DNA of the GP RENEWABLES group. We offer comprehensive solutions for the recycling of wind turbine wind blades. We control the entire process, from the removal of wind blades, through cutting, transport, storage, disposal, to the preparation of full documentation to the highest standards.
We offer disassembly of GFK and CFK wind blades
We provide cutting, transport and disposal
We prepare documentation confirming receipt of waste
Urban architecture made of recycled wind blades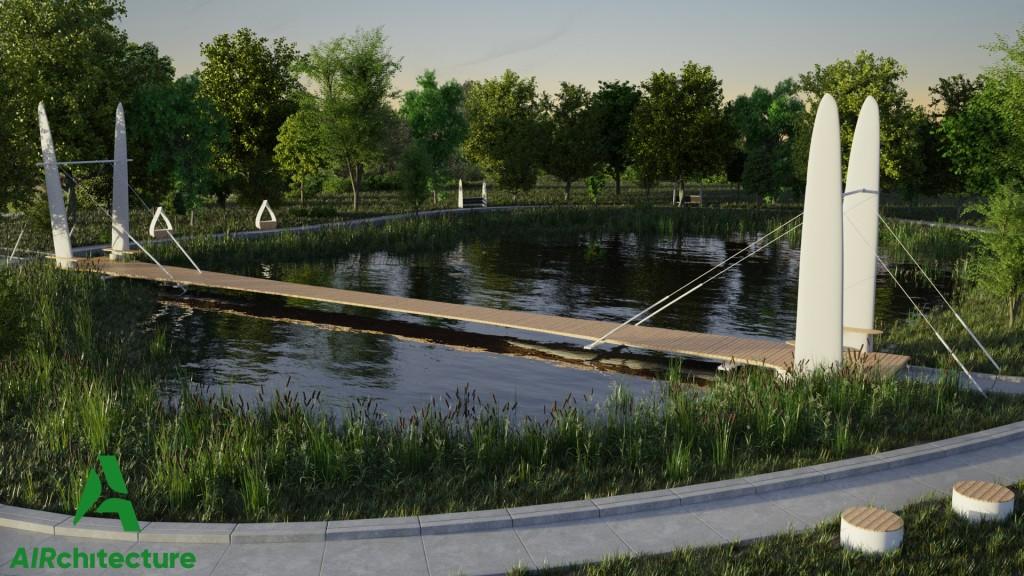 Together with our partners: composite recycling specialists, the ANMET company and professors of technical universities, we are developing a project of using used wind blades in architecture and public space giving them a "second life". Wind blades used in landscape architecture may decorate urban and private spaces for several decades to come. The urban architecture items created as a result of recycling are made of 90% recycled products, and are at the same time modern, functional and cheaper.
A footbridge for water reservoirs, with pylons 12 metres high, can be a landscaping landmark. Such a structure is sure to become a tourist attraction in the area. Another ready-to-implement and visually attractive solution is a bicycle and pedestrian footbridge for lentic waters, whose supporting element is a recycled wind blade. The footbridge dimensions can be tailor-made to individual needs. We implement comprehensive urban space arrangements. In the area around the pond or within the park we propose various arrangements of benches, tables and shelters made of wind blades. They come together to create a visually attractive, architecturally interesting as well as unique and coherent space.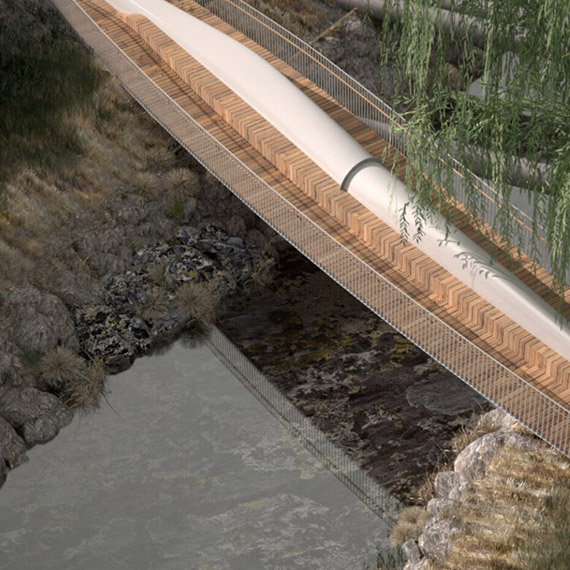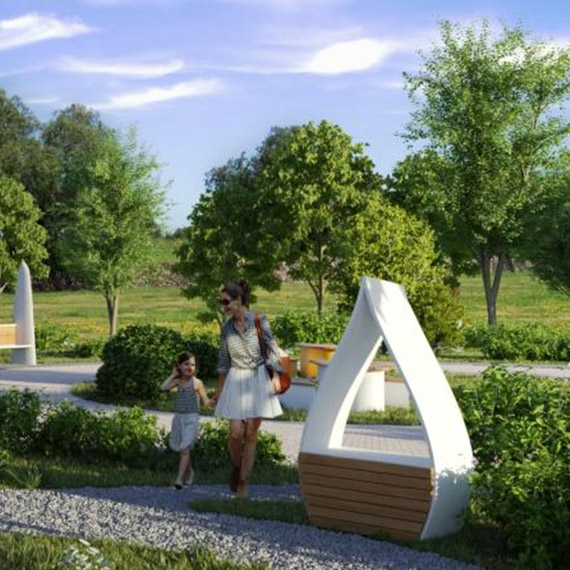 Eco Furniture for urban spaces is resistant to changing weather conditions and easy to maintain. Its colours can be chosen to suit the customer's needs. These structures are massive, but have an appearance of lightness and modernity, and theyare difficult to destroy or move. Each of them is equipped with a rating plate informing about the amount of green energy produced by the wind turbine from which the given wind blade comes. By placing educational boards about green energy and ecology along the passageways, we can easily implement the idea of the Municipal Eco Education Park.
A widespread lack of easily accessible, open-air baby changing tables or places for breast-feeding mothers is a problem all over Poland. There are no such places in parks or playgrounds. Hence the idea of a baby feeding and changing station, which protects the parent and the baby from the wind but also from being overly exposed. The piece of eco furniture we have created is very characteristic and therefore visible from a distance. It is a cheap and at the same time a necessary piece of equipment in every park and playground, and simultaneously an equally good investment in the public image of our client. The furniture can have a logo, an inscription or a custom painting scheme. The furniture enables comfortable feeding of a baby due to its ergonomic backrest and discreet shape with a recess. The furniture is additionally equipped with a comfortable foldable changing table.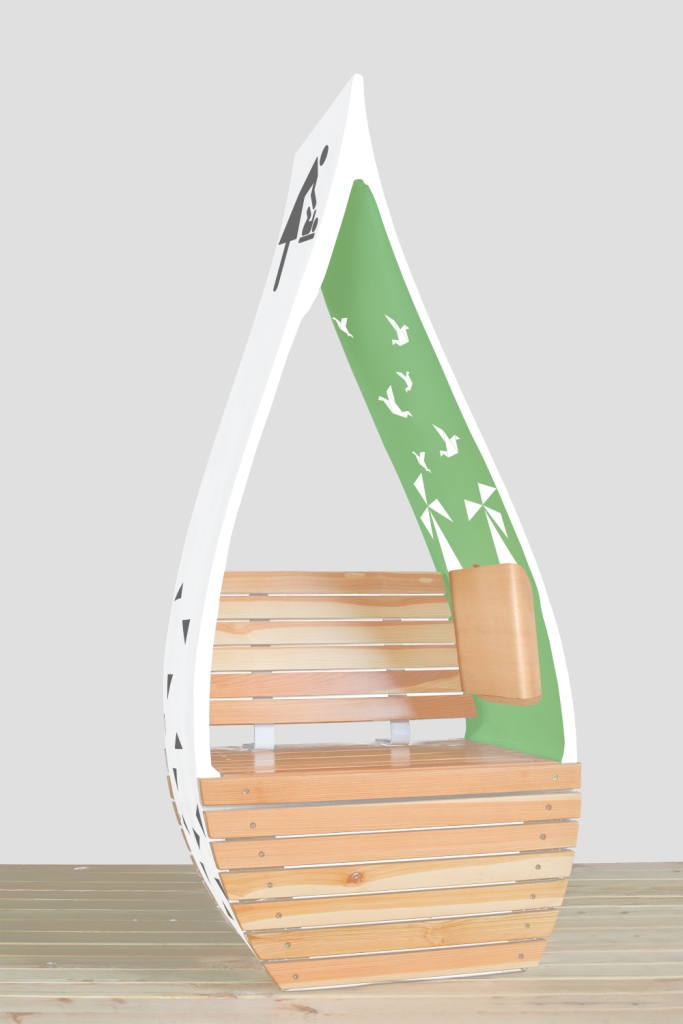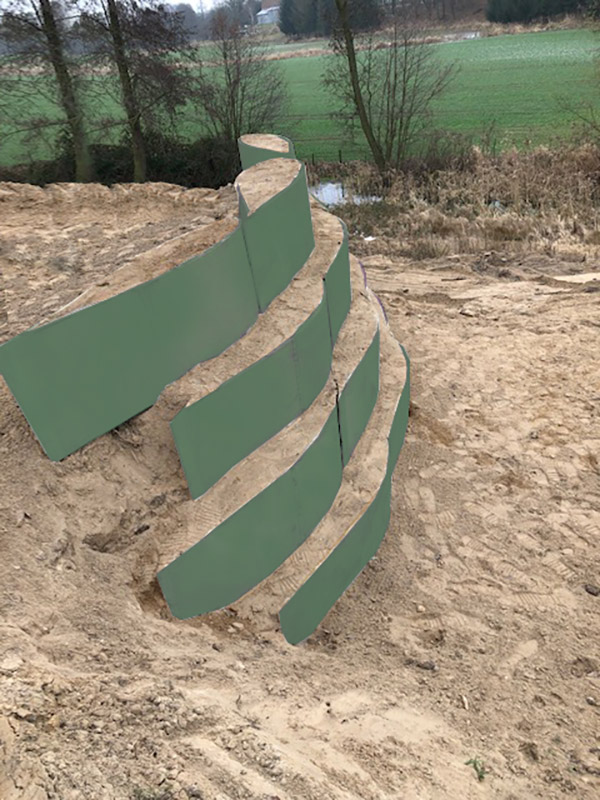 Recycled geotechnical blocks can be used as a perfect reinforcement of slopes, embankments, quays, port entrances, instead of gabions, they can also replace concrete and steel blocks used in retaining structures, soil improvements and road and railway substructures. The product is durable, aesthetic, used both in water and on land. The structural elements have standard dimensions, but it is also possible to cut them into dimensions that fit a specific project. We even have rigid elements a few meters long. This solution uses the synergy of very good material properties of the composite and a favourable geometry of the wind blade profile, which provides a high rigidity and load-bearing capacity of the structure in geotechnical applications. Unlike gabions, which require filling in the form of expensive and large stone fractions, blocks made of composite can be filled with almost any material – such as gravel or even rubble! Such a solution generates huge savings on every cubic meter.